Alphabet Trucks (Hardcover)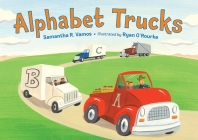 $14.95
Usually Ships in 1-5 Days
Description
---
Everyone's heard of a tow truck. And a pickup truck. An ice-cream truck? Of course But what about a quint truck? A lowboy truck? A knuckle-boom truck? Readers will learn about these kinds of trucks--and many more--while learning the alphabet in ALPHABET TRUCKS. Each letter of the alphabet is accounted for in this introductory concept book for young readers. From the familiar to the unusual, Samantha Vamos writes in snappy verse to present twenty-six different kinds of trucks, explaining where they work and what they do. From a dump truck that unloads a pile of dirt containing the letter "D," to a fuel truck filling up at a tank shaped like the letter "F," Ryan O'Rourke's playful and light-hearted illustrations involve the letters in supporting roles in each scene. Perfect for the truck lover, ALPHABET TRUCKS provides a fun and accessible way for children to learn their ABCs. - IRA-CBC Children's Choices
- Bank Street College of Education's Best Children's Books of the Year
- Pennsylvania Center for the Book Baker's Dozen: The Best Children's Books for Family Literacy.
About the Author
---
Samantha R. Vamos is the author of THE CAZUELA THAT THE FARM MAIDEN STIRRED, a Pura Belpré Illustrator Honor Book, ALPHABET TRUCKS, and BEFORE YOU WERE HERE, ME AMOR. Samantha lives near Seattle, Washington.
Upcoming Events
04/28/2018 - 10:30am to 11:30am

05/06/2018 - 1:00pm to 2:15pm

05/12/2018 - 10:30am to 11:30am