The Homemade Stuffing Caper: Book 1 (Charlie Collier, Snoop for Hire #1) (Paperback)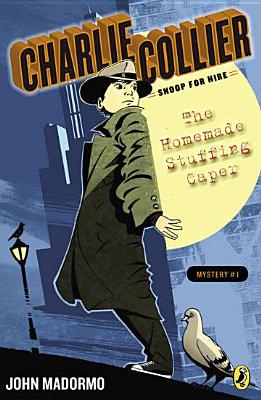 Description
---
He's got a knack for puzzling out the most twisted mysteries…

Charlie Collier is a whiz when it comes to brain teasers and word problems. He's also the go-to guy when friends and teachers find themselves in a pickle, but lately Charlie finds himself yearning for a big score. So he puts up signs around the school and waits in his parents' garage to see what mysteries stumble in. And one does! Soon Charlie finds himself hot on the trail of an evildoer and realizes he'll need more than smarts to solve this case. With the help of his trusty sidekick Henry, new client Scarlett, and code-cracking grandmother Charlie puts his reasoning skills to the ultimate test. But will that be enough to unravel this dangerous caper?
About the Author
---
John Madormo is an author, a screenwriter and a college professor. He lives near Chicago, Illinois.
Praise For…
---
"The Homemade Stuffing Caper is an exciting mystery, full of jokes and puns, as well as brainteasers and lots of detective work. This may be the first mystery you don't want the detective to solve, because you won't want it to end!" — BookPage

"Brisk and absorbing, author John Madormo's debut tips its fedora to hard-boiled classics with its 'sixth-grader meets Sam Spade' narration." — Family Fun Magazine

"With mysteries to solve, codes to decrypt, and an extended cast of colorful characters in tow, this first in a new series offers lots for mystery fans to chew on and will leave them hungry for the next installment." — Booklist

A Book Case Top Ten Summer Reading Selection for 2012 — Book Case