Janice Vancleave's Weather: Mind-Boggling Experiments You Can Turn Into Science Fair Projects (Spectacular Science Project #9) (Paperback)
Upcoming Events
10/03/2020 - 10:30am to 11:30am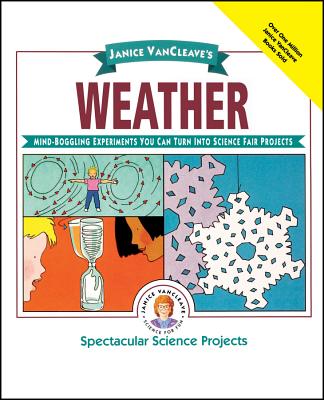 $16.00
Usually Ships in 1-5 Days
Other Books in Series
This is book number 9 in the Spectacular Science Project series.
Description
---
The perfect science fair idea books . Spectacular Science ProjectsJanice VanCleave's Weather
* Why does it rain?
* What causes thunder and lightning?
* How does a cloud form?
Janice VanCleave's Weather includes 20 fun and simple experimentsthat allow you to discover the answers to these and otherfascinating questions about weather, plus dozens of additionalsuggestions for developing your own science fair projects. Learnwhat causes lightning with a simple experiment using a roll of tapein a darkened room. Make a barometer from a soda bottle, straws, modeling clay, and colored water. Use a shoe box, plastic wrap, andsome soil to understand the greenhouse effect. All experiments useinexpensive household materials and involve a minimum ofpreparation and cleanup. Children ages 8-12 Also available in theSpectacular Science Projects Series Janice VanCleave's AnimalsJanice VanCleave's Earthquakes Janice VanCleave's ElectricityJanice VanCleave's Gravity Janice VanCleave's Machines JaniceVanCleave's Magnets Janice VanCleave's Molecules Janice VanCleave'sMicroscopes and Magnifying Lenses Janice VanCleave's VolcanoesKids.
About the Author
---
JANICE VANCLEAVE, the author of the popular Science for Every Kid series, is a former science teacher and a captivating presenter at museums, schools, and bookstores nationwide.