So You Have to Do a Science Fair Project (Paperback)
Upcoming Events
10/03/2020 - 10:30am to 11:30am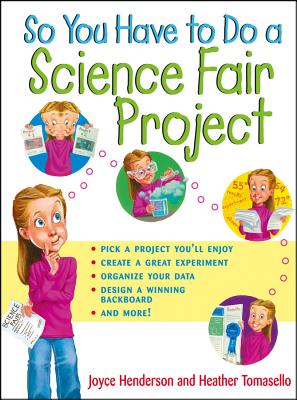 $19.00
Usually Ships in 1-5 Days
Description
---
* pick a project you'll enjoy
* create a great experiment
* organize your data
* design a winning backboard
* and more

Your all-in-one resource for science fair success

Gearing up for your first science fair project? Looking for the perfect science fair survival guide? Well, now your search is over. So You Have to Do a Science Fair Project, written by an experienced science fair judge and an international science fair winner, walks you through the science fair process, one step at a time. Filled with lots of solid, practical advice and troubleshooting tips, this easy-to-use handbook covers:
* The basics of the scientific method
* How to find a good topic
* How to do thorough research
* How to create a successful experiment
* How to organize your data
* And much more

There are also lots of helpful suggestions for polishing your final presentation, including putting the finishing touches on your display, dressing to impress on science fair day, and knowing how to talk with the judges. Whether you're a first-time participant or a science student looking to excel, you'll find yourself turning to this invaluable resource again and again for years to come.
About the Author
---
Joyce Henderson is a freelance writer and experienced science fair judge. She is the author of three other books and many magazine articles. Heather Tomasello is a science fair award winner and researcher. Joyce and Heather recently collaborated on Strategies for Winning Science Fair Projects (Wiley).