Janice VanCleave's A+ Projects in Astronomy: Winning Experiments for Science Fairs and Extra Credit (Hardcover)
Upcoming Events
10/03/2020 - 10:30am to 11:30am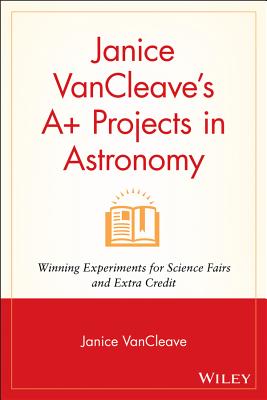 $39.68
Usually Ships in 1-5 Days
Description
---
An all-new collection of first-rate science experiments

Are you having a hard time coming up with a good idea for the science fair? Do you want to earn extra credit in your science class? Or do you just want to learn more about how the universe really works? Janice VanCleave's A+ Projects in Astronomy can help you, and the best part is it won't involve any complicated or expensive equipment.

This step-by-step guide explores 30 different topics and offers dozens of experiment ideas. The book also includes charts, diagrams, and illustrations. Here are just a few of the subjects you'll be investigating:
* The size and rotation of celestial bodies
* Eclipses and the true movements of the sun
* The apparent magnitude of the stars
* Orbital eccentricity
* Meteors and artificial satellites


You'll be amazed at how easy it is to turn your own ideas into winning science fair projects

Also available:

Janice VanCleave's A+ Projects in Biology
Janice VanCleave's A+ Projects in Chemistry
Janice VanCleave's A+ Projects in Earth Science.
About the Author
---
JANICE VANCLEAVE is a former award-winning science teacher who now spends her time writing and giving science workshops. She is the author of over 40 books with sales totaling over 2 million copies.