Five Little Monkeys Reading in Bed (Hardcover)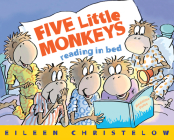 $16.99
Usually Ships in 1-5 Days
Description
---
In this eighth title in the wildly popular series, the Five Little Monkeys are supposed to go to bed, but they would rather keep reading their books
Mama raises an eyebrow. "What was it I said? Lights out Sweet dreams No more reading in bed "
After their mama reads to them, it's bedtime for the Five Little Monkeys. But they can't resist reading just one more book . . . or three Soon Mama is so tired of trying to get her monkeys to quiet down and go to sleep, she picks up their books and takes them with her. At last, the monkeys are ready to settle down . . . until they hear strange sounds from down the hall. Could it be that Mama likes to read in bed, too? This playful addition to the Five Little Monkeys series returns to the familiar setting of
Five Little Monkeys Jumping on the Bed
and features a lively rhymed verse and catchy refrain that are sure to keep young readers chanting along. With a focus on reading for fun and the idea of books as part of a bedtime routine,
Five Little Monkeys Reading in Bed
packs in plenty of mischievous monkey business, and there's even a comical surprise twist at the end.
About the Author
---
Eileen Christelow has created many picture books, including the wildly popular Five Little Monkeys series, Vote!, and two books about Emma, the Desperate Dog. She and her husband, Ahren, live in East Dummerston, Vermont. To learn more about Eileen and her books, please visit www.christelow.com.
Praise For…
---
"Reading promotion at its best, with a little bit of bad behavior to spice things up."—Kirkus 
"They {children}will continue to be delighted, as this time the monkeys turn the tables on their mother at the conclusion of the tale."—School Library Journal
"The interactive text is fun for reading aloud, and the digital line-and-wash illustrations perfectly capture the little monkeys' zany glee."—Booklist
Upcoming Events
No upcoming events available