The Dino Files #1: A Mysterious Egg (Hardcover)
Upcoming Events
10/03/2020 - 10:30am to 11:30am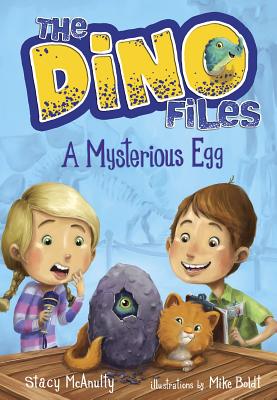 $9.99
Usually Ships in 1-5 Days
Other Books in Series
This is book number 1 in the Dino Files series.
Description
---
What if a fossil in your backyard . . . came to life?!
 
Frank's grandma is a famous paleontologist (that's a dinosaur scientist). But she's also an adult who makes up rules. Rules like: no digging for dinosaur bones when you have a sunburn. That means Frank is stuck playing inside with his annoying cousin, Samantha. But then Grandma finds a fossil of an egg! And when Frank and Sam sneak into the dino lab late at night, they find something even more amazing. . . .
 
The hilarious Dino Files chapter book series follows a nine-year-old dinosaur expert, his paleontologist grandparents, a cat named Saurus, and fossils that might not be so extinct!
About the Author
---
STACY McANULTY does not have a dinosaur. She does have three kids, two dogs, and one husband. She has been on a dinosaur dig in Wyoming, where she found a small fossil. It wasn't an egg. Stacy grew up in upstate New York but now calls North Carolina home. (She still really wants a dinosaur—preferably a Spinosaurus.) Visit her online at stacymcanulty.com.