Maisy Learns to Swim: A Maisy First Experience Book (Paperback)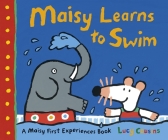 Description
---
Maisy ventures into the water in a story sure to make a splash with young children who are learning to swim.
Today Maisy is going swimming for the first time, and she is a little nervous. Good thing Eddie and Tallulah are coming, too. Eddie is a natural, but Maisy and Tallulah get into the pool slowly ooh, it's freezing But soon they are kicking and floating and even blowing bubbles with the rest. Whether water-shy or raring to go, young readers will find much to relate to as Maisy experiences another childhood first.
About the Author
---
Lucy Cousins is the creator of the beloved Maisy series. She is also the author-illustrator of the widely acclaimed Yummy: Eight Favorite Fairy Tales, a New York Times Book Review Best Illustrated Children's Book of the Year, as well as I'm the Best and Hooray for Fish! Lucy Cousins lives in Hampshire, England.
Upcoming Events
06/23/2018 - 10:30am to 11:30am