How to Hide a Lion (Hardcover)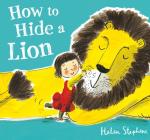 $16.99
Usually Ships in 1-5 Days
Description
---
How does a very small girl hide a very large lion? It's not easy, but Iris has to do her best, because moms and dads can be funny about having a lion in the house. Luckily, there are lots of good places to hide a lion--behind the shower curtain, in your bed, and even up a tree. But can Iris hide her lion forever?
With Helen Stephens's timeless art and elegant text, readers will fall in love with Iris and her lion.
About the Author
---
Helen Stephens likes to draw in a sketchbook every day, and often these sketchbook drawings lead to new picture book ideas. Helen studied illustration at Glasgow School of Art and has worked as a freelance illustrator and as an editorial illustrator. She lives in London.
Praise For…
---
From The Wall Street Journal:
Helen Stephens must surely have had Louise Fatio and Roger Duvoisin's "The Happy Lion" (1954) as distant inspiration for the great cat in "How to Hide a Lion" (Henry Holt, 32 pages, $16.99). The two lions could be brothers, with their long noses, demurely downcast eyes and beautiful manners in the presence of hysterical humans.
Here, as in the Fatio/Duvoisin tale, a civilized lion trots into town and finds to his surprise that people react with panic. In this case, the lion hides—first with a friendly little girl, later between stone lions—until winning everyone over with a spontaneous act of heroism. "I told you he was a kind lion," the little girl says, in this enjoyable picture book for younger readers.
*"As a book with a strong and gentle animal hero and fetching illustrations, this can stand proudly on a shelf with such classics as Crictor, The Story of Ferdinand and, of course, Andy and the Lion." -- Kirkus Reviews, starred review
Praise for Fleabag:
* "Cleverly, tenderly, [Stephens] touches on some big emotions for young readers: loneliness, rejection, sadness and fear. Yet it's her gentle humor and the characters' innocence, loyalty and love that triumph. When readers reach the last spread . . . they will ask for more, again and again. Just dazzling." —Kirkus Reviews, starred review
"This down-on-his-luck mutt has cuteness in spades" —Booklist
"The illustrations are bright and happy, picturing an appealing little mutt with fleas flying over his head. He looks like just the right sort of dog for a boy. An enjoyable story for groups or bedtime sharing." —School Library Journal
"Fine writing, an engaging story and appealing art create a winning picture book. Stephens' final page shows her sketches, drawn in a shelter, of the original fleabag. Grade: A-" —Cleveland Plain Dealer
"Flynn and his people are not the only lucky, happy people involved in this story, and that is what makes Fleabag a lovable choice." —Florida Times-Union
Upcoming Events
No upcoming events available