Hats Off to Hair! (Paperback)
Upcoming Events
03/21/2019 - 3:30pm to 5:00pm

03/23/2019 - 10:30am to 11:30am

03/28/2019 - 10:30am to 11:30am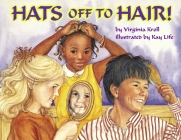 $7.95
Usually Ships in 1-5 Days
Description
---
A positive and affirming celebration of differences, diversity, and individuality through a close look at hair of all colors, textures, and styles.

How do you wear your hair -- braided with beads, blowing in the breeze, or short as short can be? In this lively look at locks, Virginia Kroll shows us that no matter how you wear it, hair is an important part of you.

Hair is our most versatile feature and kids everywhere have created their own unique styles. Exquisite paintings of kids from many cultures show us the beauty, splendor, and wonder of all kinds of hairstyles for all kinds of kids from around the world.
About the Author
---
Virginia Kroll has contributed more than 1500 items to juvenile magazines. She travels throughout the country speaking to children about writing multicultural books. She is the author of many children's books, including WOOD-HOOPOE WILLIE, A CARP FOR KIMIKO, SWEET MAGNOLIA, JAHA AND JAMIL WENT DOWN THE HILL, HATS OFF TO HAIR!, MASAI AND I (Four Winds Press), and BUTTERFLY BOY (Boyds Mill Press). Virginia lives in New York with her family.