The Golden Flower: A Taino Myth from Puerto Rico (Hardcover)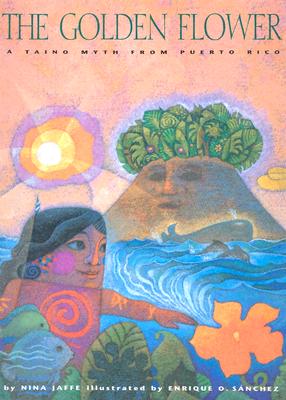 Staff Reviews
---
The syncopated prose of Nina Jaffe draws the reader to the island of Puerto Rico, back before the Spaniards arrived. The island was inhabited by the Taínos, and they called their beloved island, Boriquén. This is their story of how Boriquén came to be.
In the beginning, there is only a giant mountain above a dry plain without water or plants. When a child walks over the flat land below the mountain, he finds seeds dancing in the wind. When he plants the seeds on the top of the mountain, a forest grows on the crest and in that forest, a large golden flower appears. Soon, the boy and his community reap benefits that they had never before imagined.
A joyful creation myth about the evolution of a beautiful island habitat, this picture book, originally published by Simon & Schuster, is also a celebration of the young boy's quest, which encourages young readers, ages 4-8, to respect the gifts of the winds and the cycle of nature that bears fruit for the whole community.
Jaffe's adaptation of this traditional folktale common to indigenous peoples of South America and the Caribbean stemmed from her encounter with a Spanish-language text by Carmen Puigdollers, "Como se formó la bella isla de Boriquén," and research in Puerto Rico.
NINA JAFFE'S acclaimed retellings of world folklore include The Golden Flower: A Taíno Myth from Puerto Rico (Piñata Books, 1998), named an Honor Book in the 1998 Pura Belpré Awards; La flor de oro: Un mito taíno de Puerto Rico (Piñata Books, 2006); The Way Meat Loves Salt: A Cinderella Tale from the Jewish Tradition (Henry Holt and Co., 1998), a PJ Library selection; and Patakín: World Tales of Drums and Drummers (Cricket Books, 2001). Cited in Best Books for Children as "among the very best in the field" of authors who draw on oral traditions, her books have been honored with the Sydney Taylor Award and Anne Izard Storytellers' Choice Award and have been named a Smithsonian Notable Book. Recent publications include Tales for the Seventh Day: A Collection of Sabbath Stories (Scholastic, 2000) and Wonder Woman: I Am Wonder Woman (HarperFestival, 2004). Nina is on the graduate faculty of Bank Street College's education department and lives in New York City.
Description
---
Long ago, the island of Puerto Rico was called Boriquen . . . . And so begins this myth from the Taino, one of the indigenous cultures of the West Indies. Exquisitely penned by a gifted storyteller, this unique tale tells how a golden flower brought water to the world. Full color. Baby/Preschool.