Alphabet Trucks (Hardcover)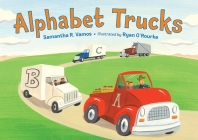 $14.95
Usually Ships in 1-5 Days
Description
---
Everyone's heard of a tow truck. And a pickup truck. An ice-cream truck? Of course But what about a quint truck? A lowboy truck? A knuckle-boom truck? Readers will learn about these kinds of trucks--and many more--while learning the alphabet in ALPHABET TRUCKS. Each letter of the alphabet is accounted for in this introductory concept book for young readers. From the familiar to the unusual, Samantha Vamos writes in snappy verse to present twenty-six different kinds of trucks, explaining where they work and what they do. From a dump truck that unloads a pile of dirt containing the letter "D," to a fuel truck filling up at a tank shaped like the letter "F," Ryan O'Rourke's playful and light-hearted illustrations involve the letters in supporting roles in each scene. Perfect for the truck lover, ALPHABET TRUCKS provides a fun and accessible way for children to learn their ABCs. - IRA-CBC Children's Choices
- Bank Street College of Education's Best Children's Books of the Year
- Pennsylvania Center for the Book Baker's Dozen: The Best Children's Books for Family Literacy.
About the Author
---
Samantha R. Vamos is the author of Alphabet Boats, Alphabet Trains, Alphabet Trucks (illustrated by Ryan O'Rourke), The Cazuela That the Farm Maiden Stirred (illustrated by Rafael López) - 2012 Pura Belpré Illustration Honor - its companion book, The Piñata That The Farm Maiden Hung (illustrated by Sebastià Serra), and Before You Were Here, Mi Amor (2009, illustrated by Santiago Cohen). Samantha previously worked as an attorney, practicing in Washington, D.C. and Chicago, IL. Samantha was born in the Midwest, grew up on the east coast, and lived in the Pacific Northwest before moving to the Bay Area with her husband, son, and their rescue puppy, Bowie. Visit Samantha online at www.samanthavamos.com. For many years Ryan O'Rourke's illustrations have appeared in galleries, newspapers, and magazines, including a weekly illustration for the Boston Globe Sunday Magazine. One Big Rain marks Ryan's foray into children's picture books. He makes his home in Connecticut.
Upcoming Events
No upcoming events available