Event date:
Sunday, November 3, 2013 - 2:30pm
Join author Richard Lewis for a special storyhour of his whimsical picture book Play, Said the Earth to the Air.

In his poem, Play, Said the Earth to Air, Richard Lewis invites us to experience once again the play that makes up light and air, colors and sounds, as they are brought together with all that is playful in our individual ways of knowing and imagining.

With evocatively rendered images by Heidi Neilson, transformed from an original puppet stage created by Gigi Alvaré for an arts and education project of the Touchstone Center, this book celebrates and unites the play of the natural world with what is equally and profoundly at play in each of us. A collaboration that is necessary, perhaps now more than ever, for the well-being of all that is alive.

Richard Lewis is the founder and director of the Touchstone Center for Children. His recent books, published by Touchstone Center Publications, include collaborations with teaching-artists.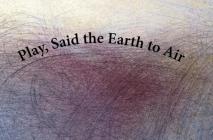 Email or call for price.
ISBN: 9781929299126
Availability: Special Order
Published: Touchstone Center Publications - July 15th, 2013
---